Monthly Archives:
August 2012
I don't usually do posts for a single portrait session, but I felt like Marie needed her own space. Marie is an exchange student from Denmark, who just so happens to love Tina Dico as much as I do, and if you don't know who that is, you are missing out on some fantastic songwriting and you should do yourself a favor and check Tina's music out. I have done a few exchange student sessions now, and I hope to do at least one every year as a sort of "bon voyage session." In fact, I think I just named them. (updating website)
Marie is silly, fun, and full of life… it is impossible to spend time with her and not smile, she just draws it out of you, like a magician pulling a rabbit out of a hat. This is a quality that will take her places in life. She loves shoes, and is on a mission to create her own shoe line focusing on heels and stilettos that are actually comfortable. Best of luck on that 😉 Marie brought a couple of her friends from Oregon on the shoot, which culminated in a pool, a diving board, and fully clothed girls launching themselves into the summer air. This is the kind of thing I can see Marie doing on a regular basis, and her friends in Denmark are lucky to have her.
High five from Oregon and the United States!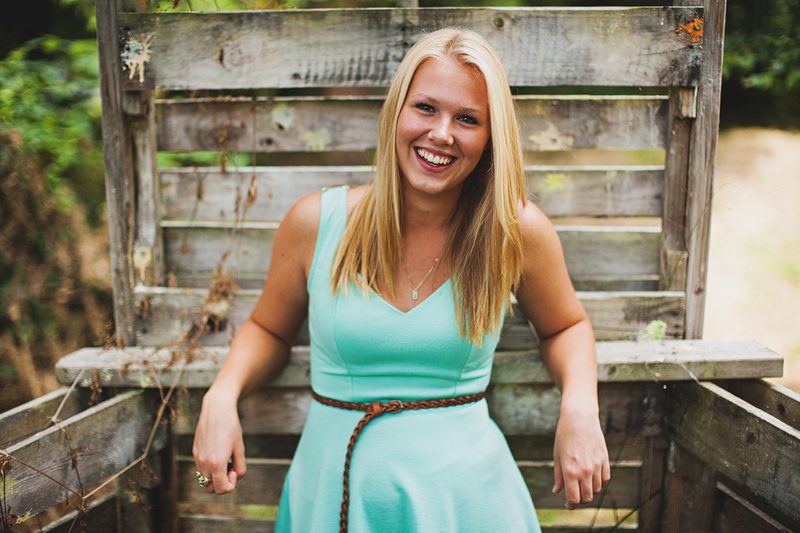 Some weddings go perfectly, birds chirping, sun shining… like a storybook dream. Some weddings see torrential downpours last minute. Jamie and Cole got the latter. However, as we in the northwest have become accustomed to having our eyes open for, there's always a silver lining on those rain clouds. The wedding was beautiful and would have been just as beautiful without the rain making an appearance, however, there's an aspect of this wedding that is hard to communicate in pictures. I'll try to explain why I felt their day was so special.
Jamie and Cole had an outdoor orchard venue with 400+ people. This is a combination that requires sun 🙂 The night before, the rains rolled in. The night before they found an indoor venue. The morning of the wedding, Jamie and Cole's 15+ friends went into action, transforming a bare room into a beautiful reception location. Decorating, cleaning, driving back and forth across town, all with joyful smiles. This would be enough to drive most brides out of their minds, but I watched Jamie handle it with grace. She was all smiles, as was Cole. I have no doubt that they would have preferred 80 degrees, and the wedding would have been beautiful with or without rain. Plus, life certainly would have been simpler with clear skies… however, they could never have experienced the same depth of love from their community of friends without rain.
So, brides to be, take a note from these two. All of the details for your day are important – they all come together to create the wedding day – but they can also all go wrong. I've seen it all, and I'm married, so I've experienced it firsthand. Ultimately, the only detail that matters in the long run is marrying the person you are going to spend the rest of your life with. Muddy dress and all.
Jamie and Cole, you inspire me. Thank you for having me.
VENUE – ALONG CAME TRUDY
EVERYTHING WAS BEAUTIFUL UNTIL WE WALKED BACK FROM THEIR PORTRAITS. THEN THIS HAPPENED.
WE HAD A LITTLE TROUBLE WITH THE SERIOUS PICTURES 🙂
THEY KISSED… AND THEN THIS HAPPENED.
THEY EXITED TO A SMALL HOUSE ON THE PROPERTY AND JUST COLLAPSED ON THE COUCH. I CAN ONLY IMAGINE THE EXHAUSTION FROM LAST MINUTE PLANS, COUPLED WITH THE EXHILARATION OF BEING MARRIED. POISE, MY FRIENDS. YOU SHOWED POISE.
SOMETIMES THE BEST MAN BUSTS OUT A MIDDLE SCHOOL STUDENT BODY CARD.
JAMIE'S NIECE GAVE ONE OF THE BEST SPEECHES OF ALL TIME, STARTING SHY AND QUICKLY MOVING INTO MULTIPLE, UNSTOPPABLE VERSES OF HER FAVORITE SUNDAY SCHOOL SONGS. "JUST ONE MORE TIME!"
THEIR GUESTBOOK CONSISTED OF THESE HUGE PRINTS OF TREE RINGS, WHICH I CAN THINK OF MANY WONDERFUL ANALOGIES FOR
THANKS TO TRISH LAVER FOR SHOOTING WITH ME!